About
Scholarship Information

The story of how we started the first scholarship is quite tragic, but important to tell. Lee Allan Dowches Class of 1991, was a Rho Delt who died in 1988 as a result of injuries sustained when the rung of an extension ladder on which he was standing broke as he was affixing letters to the rear of the Rho Chapter House. At that time, Lee's pledge class, fellow Delts and other Stevens IFC members assisted in raising money toward what would be known as the Lee Allan Dowches Memorial Scholarship.
Lee Allan Dowches Eulogy 1969 - 1988
Here's Proof That "The Good Die Young"
He played guitar better than any of the Allmans - and evoked more laughs just by him being himself.
He pushed us to the limit in every way. He inspired our best performance, but was never bored if we were mediocre.
He was always true. He held others in high regard, and went out of his way to help them.
And in romance where another would fall in lust, he'd fall in love.
He stuffed enough Chem into our heads one night to pass our freshman course, sacrificing his "ace" for our benefit.
Personable, each of his employers considered him a key individual almost immediately upon hiring.
He had class, style and that certain flair that destiny seems to favor.
We picked him to be the model of dedication no matter what the task.
You couldn't help but be pleased to know this warm, caring person.
We were shocked that his injuries took so great a toll, especially with a body he took great care to keep fit - except maybe for his constant companion, the Kodiak Bear.
In the short time between his accident and his passing, we became "one" in his battle to beat the odds… and a part of each of us went with him.
In his living we saw the finest to which a brother can aspire.
In his death, we view our own limitations.
It is selfish of God to have loved Lee as much as we did, 'cause when the Lord loves that much, He calls us too soon to be His Own.
Previous Winners:

John Davidovich (1998-1999)
Istvan Nyilas (1999-2000)
Mike Michelini (2000-2001)
Rory Jennings (2001-2002)
Ken Henriques (2002-2003)
Nicholas Mabunay (2003-2004)
Mark Bielicky (2004-2005)
John Dolny (2005-2006)
Brian Reckdenwald (2006-2007)
Andrew Dolny (2007-2008)
David Decker (2008-2009)
Timoleon Ballai (2009-2010)
Eric Cortese (2010-2011)
Brandon Hartt (2011-2012)
Daniel Knight (2012-2013)
Colin Butler (2013-2014)
Tim Leahey (2014-2015)
Luke Castellano (2015-2016)
Robert Shea (2016-2017)
Patrick Rood (2017-2018)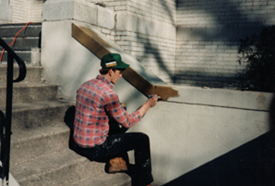 Critiera:
This scholarship is awarded to a brother-in-good-standing (first preference shall be given to a sophomore) who has exhibited devotion and unselfish spirit towards his peers.